The life history of Saheed Bhagat Singh in this short biography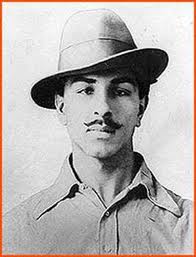 Bhagat Singh
Bhagat Singh
Shaheed Bhagat Singh did not live long. In fact Bhagat Singh was all of 24 years when he was sent to the gallows along with fellow comrades Shivaram Rajguru and Sukhdev Thapar. But during this short span, Bhagat Singh shone like a gleaming meteor in the Indian sky and inspired millions with his heroic battle against the oppressive British regime.
Born into a Sikh family of revolutionary leaders, it was only a matter of time before Bhagat Singh plunged into the struggle for freedom. From an early age he was influenced by socialist ideology and his embracing of armed struggle had as much to do with the success of socialist revolutions elsewhere in the world as with his disillusionment with the prevalent
political leadership
. He read extensively and wielded a powerful pen.
A great organizer, Bhagat Singh united the restless youth of
the day
under the aegis of Hindustan Socialist Republican Association and gave a direction to the fledgling armed struggle. Even though he could not achieve freedom for India, Bhagat Singh`s martyrhood stirred up the nation and inspired millions of Indian youth to fight against British oppression. While the leadership of Mahatma Gandhi and the Indian National Congress are usually credited for India`s independence, the sacrifices made by Bhagat Singh and his comrades too are glorious
chapters
in India`s history.
Bhagat Singh vs. Mahatma Gandhi
Mahatma Gandhi and Bhagat Singh, two titans of the Indian freedom movement and inspirational leaders who laid down their lives while seeking emancipation for their countrymen. Committed as they were towards the goal of India`s freedom from British rule, the means they adopted were as different as chalk and cheese. While one spearheaded a civil disobedience movement founded on the principles of
nonviolence
and Satyagraha, the other waged a revolutionary armed struggle laced with violence towards the British regime.
As a young lad, Bhagat Singh actively took part in the non-cooperation movement and was an admirer of Mahatma Gandhi. He earnestly believed that India would indeed gain freedom under Gandhi`s leadership. But when Gandhi called off the movement following the Chauri Chaura riot in 1922, Bhagat Singh became disenchanted with Gandhism and gradually veered towards the tenets of armed revolutionary struggle. Prior to his arrest and subsequent execution, Bhagat Singh led many a valiant attacks against the British machinery.
The pre-eminence of Mahatma Gandhi and Bhagat Singh in Indian freedom movement and their distinctly different approaches have spawned many controversies and even conspiracy theories. Most of these stem from Gandhi and the Indian National Congress` alleged failure to prevent Bhagat Singh`s execution despite enjoying substantial clout with the British government. In fact a number of recent Bollywood movies like `Shaheed Bhagat Singh` are replete with subtle insinuations that Gandhi indeed could have done more to save Bhagat Singh`s life.
But Gandhi was an admirer of Bhagat Singh and publicly applauded his patriotism on many occasions. The Mahatma in fact wrote to the Viceroy pleading with him to commute the death sentence of Singh and his accomplices.
Bhagat Singh in Jail:
The fearless soul that he was, Bhagat Singh was not a man to be deterred by the fear of police atrocities or long stretches of imprisonment. After exploding bombs in the Central Assembly on April 8, 1929, Bhagat Singh voluntarily courted arrest along with comrade Batukeshwar Dutt. From that moment onwards, Bhagat Singh was never to set his feet again outside the prison confines as a free man. He was sentenced to transportation for life and when the police got an inkling of his involvement in the Lahore Conspiracy case, Bhagat was charged with the murder of DSP Saunders.
Once inside the jail, Bhagat Singh was left aghast at the shoddy treatment meted out to the Indian
political prisoners
. He and Batukeshwar Dutt launched a hunger strike demanding equal rights for Indian and British prisoners and an overall improvement of the plight of the prisoners and undertrials. Soon other Indian prisoners too joined the strike and thus ensued an inspirational saga of human endurance and courage that stirred the conscience of the entire nation. Despite
police brutality
and repeated attempts of forced feeding, the strikers led by Bhagat Singh carried on their fast for 63 days at the end of which the government had to
yield to
their demands.
An avid reader, Bhagat Singh spent the long period of incarceration reading socialist literature. Not only did he read, he also penned down his thoughts in a note book. Bhagat Singh`s 404-page jail diary is replete with his ideas, philosophy and his dreams for the country.